These Indian Hills Could Turn Into COVID Hotspots As People Rush To Tourist Hubs
3 min read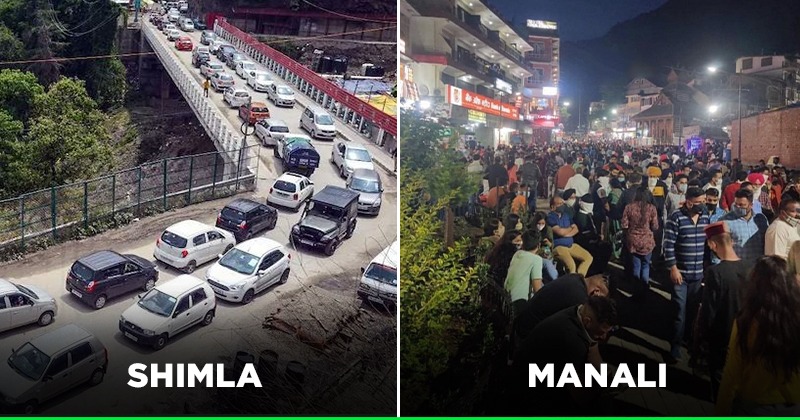 For the past few days, social media has been abuzz as huge crowds have been thronging many tourist destinations across northern India, amid the fear of the third COVID wave.
As Indian hills to the likes of Manali, Mussoorie and Shimla relaxed COVID-induced restrictions, photos of massive footfall of maskless tourists and hours-long traffic jams began to go viral on the internet.
Here's a list of some of the hills that could turn into COVID hotspot even as authorities are scrambling to keep a check on rampant violation of COVID norms.
1. 
 Shimla
Among the first tourist hubs to have witnessed massive footfall of people in the first week of July was, Shimla in Himachal Pradesh.
Though the state did not explicitly say that it is open for tourism, Himachal Pradesh lifted Section 144 in the state and tweaked its COVID-19 guidelines, and said that a negative RT-PCR test is no longer required to cross the state borders. Anyone with an e-pass is now allowed to enter the state.
Himachal became the first state to open up for outsiders, as it was emerging out of the COVID-19 pandemic.
This was followed by a mad rush of thousands of cars, mostly from neighbouring states trying to enter Himachal on the weekend.  
2. Manali
Soon after Manali followed and opened its gates to tourists after the second wave. This led to thousands of Indians rushing to the destination even as the threat of third wave loomed over us.
Pictures of the same surfaced on the internet where the streets of Manali were heavily crowded by Indian tourists. Hotel and Restaurant Association president Sanjay Sood said the withdrawal of the condition of negative RTPCR report and e-covid pass to enter Himachal Pradesh had given a boost to the tourism industry of the state.
However, the pictures of the mad rush in Manali caused a lot of critisism and concern among people. Soon reports of no availability of beds in hotels also started doing the rounds.

3. Mussoorie
To escape the heat of the plains, tourists flocked to the queen of Hills, Mussoorie, starting July.
Hotels were full and cars filled up the roads.
Even a video of hundreds of maskless tourists having a good time at Kempty Falls, went viral.
Needless to say, social distancing went for a toss and watching the video one would wonder if there really was a pandemic.
4. Gangtok
On July 9, Gangtok in Sikkim reported a huge tourist influx. "Tourists have started visiting the state in good numbers. If everything goes fine, in coming weeks, government will give more relaxation for revival of tourism & economy," said Kapil Meena, Additional Secretary, Tourism & Civil Aviation.
This came after the state government of Sikkim lifted temporary ban on the entry of visitors from other parts of the country, stating people who have taken both doses of the COVID-19 vaccine can visit the state.
However, Sikkim is currently one of the eight states that has the maximum number of districts with above 10 per cent positivity.
5. Leh
Many tourists have now even made it to Leh as Ladakh has eased COVID restrictions.
"I am very happy. I wanted to visit Ladakh on a bike. The dream come true today, says a tourist from Maharashtra's Nasik.
Tourists throng Leh as Ladakh eases #COVID19 restrictions

"I am very happy. I wanted to visit Ladakh on a bike. The dream come true today, says a tourist from Maharashtra's Nasik pic.twitter.com/mZ0yUXIoyF

— ANI (@ANI) July 10, 2021
This comes after Tourist Information Centre (TIC), situated in the heart of Leh town, tweeted on Thursday that it is open for tourists for any tourist-related information.
Ladakh reported 12 COVID cases, 15 discharges, and one death on Friday. The total number of COVID-19 active cases in Ladakh has gone up to 131; 93 in Leh district and 38 in Kargil district.