'It's a tradition': East Texans celebrate holiday season at Tyler State Park for A Pineywoods Christmas | Local News
3 min read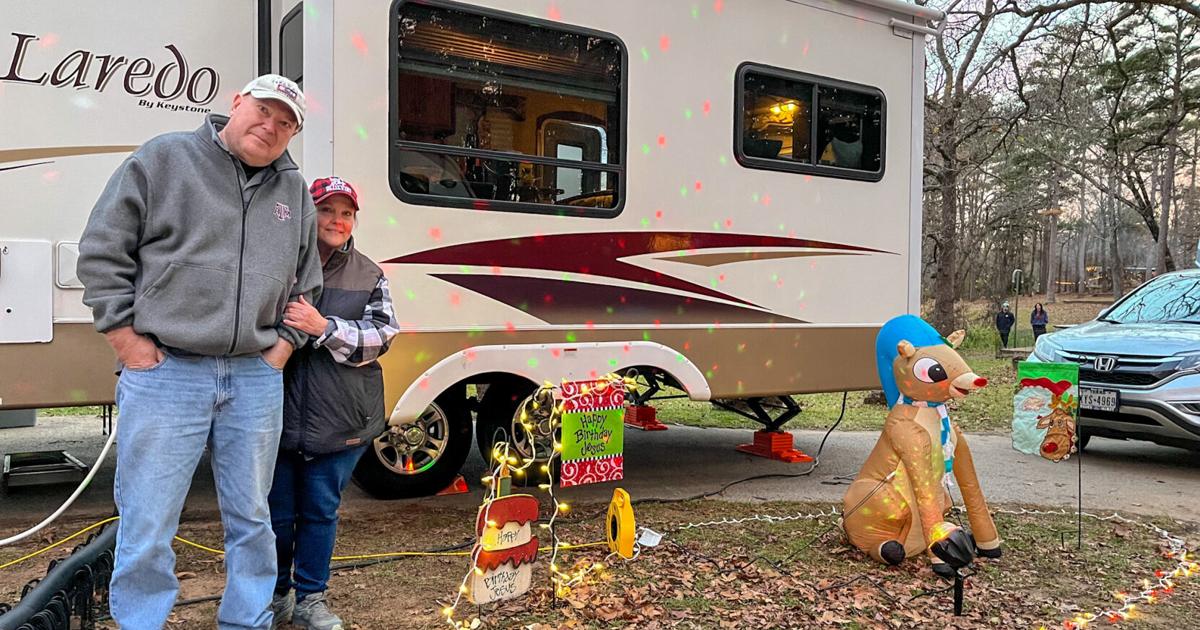 The elves of Tyler State Park have filled the camping grounds with hundreds of Christmas lights and decorations for the visitors to enjoy.
Within the woods of the park, East Texans such as the Cannons, of Lindale, are spending time with family and friends all while spreading the holiday spirit as part of A Pineywoods Christmas.
The Cannons for years have visited the state park with friends, most of whom are retired school teachers, as part of a Christmas tradition.
Teresa and Brent Cannon have come out each year since 2012 with their friends, Kim Dodgen, Richard Dodgen, Teresa Jackson, and Russ Jackson, and have been doing so since their children were young. Their children are now adults with their own children.
Along with their friends, the Cannons invite a total of about 10 families each year to visit the park. Some of those family members are from Lindale and other families are from Henderson.
Each family's RV was located right next to each other, all decorated with plenty of lights and Christmas decor.
"It is a tradition for all of us. We all get together, we eat together and just visit and get to spend time together. It's a very important tradition to all of us," Teresa Cannon said.
Brent Cannon said the group visits plenty of state parks, but Tyler State Park is one of the prettiest, especially this time of year, and convenient. The Cannons complimented the park set up, adding there's woods and trees in between other neighbors.
The group of campers arrived to the park on Wednesday and finished decorating on Thursday. Teresa Cannon and Richard Dodgen said they stayed up until midnight decorating their campers.
The Cannons said the main decoration they were proud of at their campsite was a sign that said "Happy Birthday, Jesus," and a special float that was gifted to her from her daughter and grandson.
They also have a Rudolph blow-up which is significant to the entire group because each year, they get together for a Rudolph party, another tradition they have kept since their children were young. They eat Rudolph-themed foods, wear antlers, play reindeer games and visit.
"It's friends that are really family," Dodgen said.
Tambre McCaslin and Andrew Keith visited the Pineywood Christmas display on Saturday and said they loved the experience and the decorations were eclectic and beautiful.
Initially, the pair didn't plan to attend the event but got stuck at the park because of a long hiking trip they had just completed.
"We saw it earlier and it was awesome so we came around a second time and the cones directed us this way. This is great and awesome, I didn't even know they did this out here," Keith said.
McCaslin said after a long hike, driving home through Christmas lights was a blessing and felt nice.
"I think it's really cool how so many people have such similar interests and hobbies and they all like to come out here and do the same thing and everyone you talk to is just in a great mood," Keith added.
According to the Tyler State Park's official Facebook page, there were some last minute cancellations and the park invited the public to camp for free the entire weekend.