49 Camping Gifts to Give the Outdoor Enthusiast in Your Life
11 min read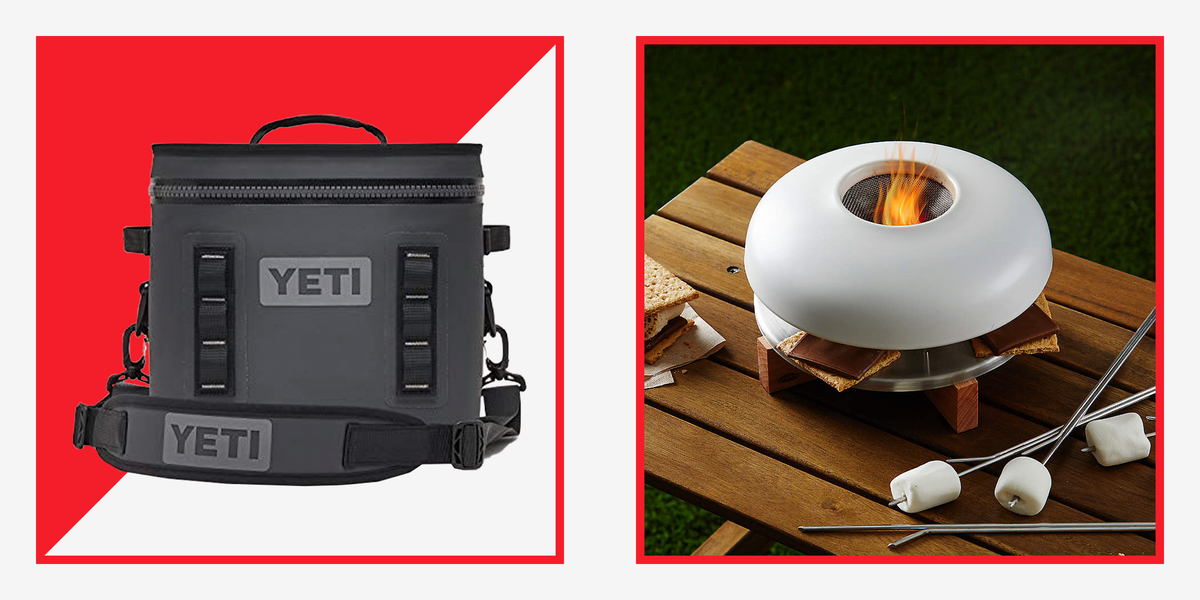 Whether you're a true city slicker or someone who spends their free time in the backcountry, one thing can be sure: There's nothing quite like the outdoors. And the best part is, it's always there and waiting for you. Of course, not everyone is equipped with the right camping gear like tents and the like (or the budget for it) to outfit the most adventurous of excursions. Luckily, the season of giving is nigh—and you know what that means: There's no better time to dive into camping gifts for your loved ones who, simply put, can't get enough of the great outdoors.
Of course, given the expansive range of products there is in the outdoor gear space, finding the items for your loved ones' specific wants and needs—like gifting anyone, really—is easier said than done. But, from one granola to someone who's shopping for another, the best camping gifts you can get someone entail the things they've been eyeing for their next trip and the others that remind them of the outdoors when they can't get away.
If you don't have the chance to take a peek at their growing wish list on retailers like Backcountry, REI, Amazon, and the like, no worries—I've put together a list of foolproof camping gift ideas (including cool, luxury items and more affordable stocking stuffers) that'll have you set for the holiday season. And just in case you're also on the market for the best outdoor gear out there, go ahead, add some things to the cart for yourself, too.
Fischersund X 66°North Utilykt Fragrance
Breathing in the great outdoors is as refreshing as hell, so why not keep it with you whenever, wherever? Icelandic outerwear brand 66°North and fragrance company Fischersund teamed up to capture the essence of exactly that, inspired by their homeland.
Carhartt Knit Cuffed Beanie
Filson Small Rugged Twill Duffle Bag
Look, I know this is a splurge. But before you scroll onto the next thing, know one thing: Filson makes items that are built to last (and I mean last). When you keep that in mind along with the timeless rugged design, well, you can call this an investment in your loved one's favorite pastime.
Read More: Best Gifts for Men
Chama Vaquero Chair
If they're no strangers to camping, odds are they have their share of camping chairs. But do they have luxury camping chairs? Probably not. Without a doubt, this is for the camper in your life who wants to get out there but also get the 'gram, too.
Stoic Double Cloud Camp Bed
With this sturdy camp bed, anyone using this will kiss goodbye to the cold hard ground. There's a ground reinforcement and four inches of foam padding which will make it feel as if you brought your mattress on the road with you.
Western Mountaineering Standard Down Bootie
These ultra-warm booties are the perfect finishing touch to those cozy campfire nights. They're basically pillows for your feet. Need I say more?
Barebones Cowboy Firepit Grill – 30″
Nothing beats cooking over an open flame, and if there's someone on your list who likes to get fancy with their food while they're camping, this is undoubtedly the gift for them.
Oru Kayak Bay ST Folding Kayak – 12′
In the vast world of outdoor gear, it's hard to know which items (especially the bigger ones) are actually worth investing in. But in case the person on your list is looking for a cool and unique camping gift, opt for this folding kayak from Oru.
Read More: Best Outdoor Gear
Ooni Koda Pizza Oven Bundle
Ever crave fresh, hot, and tasty pizza while you're out in the backwoods? The camping enthusiast on your list probably has too. In which case, this is the thing to take their camping trips to a new level of bougie. 
Parks Project Minimalist National Park Playing Cards
One of the best parts of heading outside and away from your everyday life is unplugging for a bit. Of course, when you need something to keep you entertained in the meantime, never doubt a deck of cards—and this one comes with illustrations inspired by public lands across the country.
Stanley French Press 48oz with Double Vacuum Insulation
Have someone who appreciates a good cup of coffee in the morning? They'll love this large french press to enjoy their java in the backcountry. And with double vacuum insulation, it'll keep their brews warm for hours.
Veja Dekkan Shoes
Veja's new Dekkan shoes are the hiking sneaker you can wear everywhere—including the city streets. Help the granola in your life take on the gorpcore trend with flying colors with these sleek (and sustainable) shoes.
SportRack Vista XL Rear Opening Cargo Box
Sometimes, depending on the type of car you have and the gear your giftee's packing, one trunk is not enough. When that time comes, they'll be happy to have the additional space with this rooftop cargo box (P.S., it's great for road trips, too).
Hoka Anacapa Mid GORE-TEX
Of course, if the person on your list needs something more suited for hiking and the like, look no further than Hoka's Anacapa. It's become an editor favorite thanks to its lightweight feel and Vibram soles, which give the right amount of traction for any terrain.
Read More: Best Sneakers for Men
Yeti Crossroads 27L Backpack
Odds are you know Yeti for its line of hardcore, tough-as-nails coolers. And if you think those are good, wait until you (and the person you're shopping for) see the brand's luggage. These are just as sturdy as the pieces you know and love, making them perfect for someone's camping trip.
Skouts Honor Adventure Dog Kit
Hey, even dogs need some TLC when they're out in the great outdoors. For the pet-lover who can't bear to go anywhere without their furry friend, get them this kit, which will keep them keep their pet clean before, during, after their trail days.
Outdoor Voices Primo Fleece Pullover
outdoorvoices.com
$148.00
Outdoor Voices' whole schtick is creating the pieces you need to get outside and do things. Well, it comes as no surprise that the brand created a collection specifically for camping and hiking. Embrace those early-morning walks with this ultra-soft fleece pullover, which has a liner that's ready to wick away any sweat.
R.E.D.D. Vegan Protein Bar Variety Pack
Looking for the perfect stocking stuffer? These tasty vegan protein bars are great to keep in a daypack or in the car for those long road trips out to the campsite.
Eno DoubleNest Hammock
I've had one of these hammocks for years, and there's truly nothing like it. And since it's designed to hold up to 400 lbs, it's the perfect gift for the couple in your friend group who likes to spend the weekends away and in the wild.
Radiate Portable Campfire: The Original Go-Anywhere Campfire
For the moments when they can't make it out to a proper campsite, bring it to them (without all the bad parts, like the smell of smoke that stays with you or the cleanup). This portable campfire simply requires the light of a match or lighter and let it go for three to five hours. 
National Parks America the Beautiful Pass – 2021/2022
Honestly speaking, when you're truly stumped for what to get the outdoors-obsessed person n your life, you can't go wrong with an annual pass to the national parks. It's all the motivation they'll need to start booking their trips for the year.
Outdoor Fellow No.4 Mountain Forest
There's a reason candles always make the list for the best gifts you can get, well, anyone. And if you're in need of an option for someone who likes to embrace the fresh scent of the woods, grab 'em this candle, which is inspired by a trip to the Adirondacks.
YETI Hopper Flip 12 Portable Cooler
As I said before, you already know Yeti for its hard-to-beat hard-sided coolers. And if the person you're shopping for already has one in their collection (or they want a more portable option), get them this.
Snow Peak Mini Hozuki
Deck out their tent with a mini lantern like this one from the popular and stylish outdoor gear brand Snow Peak. It comes in three sleek neutral shades and provides a nice candlelight-like glow. Sounds dreamy.
Arc'Teryx Men's Kole Down Jacket
In case the person you're shopping for has worn through their beloved jacket, the holidays are a perfect time to get them a new one for the next handful of years. We love this down option from Arc'Teryx, which was designed to be worn as a midlayer or on its own.
Thule Tepui Foothill 2-Person Roof Top Tent
There's car camping, and then there's rooftop car camping—and waking up above the ride just hits different. This is sure to make those regular camp trips feel like entirely new experiences.
Fjallraven Tree-Kånken
It's no secret that Fjallraven's backpacks have been so popular among the Gen-Z crowd. And in case you're shopping for a young'un, this sustainable take on the viral piece—which is made with 100% lyocell—will be just the upgrade they need.
Read More: Gifts for Teenage Boys
Hydro Flask 28 oz Insulated Food Jar
When you're out camping_particularly in the fall and winter—there's truly nothing like a warm meal. This insulated food jar will keep any food at its desired temperature for hours, which makes it great for day-long hikes. The person who gets this will be so thankful for a useful camping gift like this.
BioLite AlpenGlow 500 Lantern
Without a doubt, this rechargeable lantern is perfect for the camping family. The color of the lights will change with a shake, and to top it off, there's even a party mode. 
Bang & Olufsen Beosound Explore
Breathtaking nature is great with its own soundtrack of crickets, white noise, and other elements. But if you want to add some extra flavor to someone's trip, give them this Bluetooth speaker. The sound is amazing and feels like it's coming from everywhere, but it's designed to handle rougher handling, too.
Read More: Best Outdoor Speakers
Coleman Portable Butane Stove with Carrying Case
Creating a camping starter pack for someone/ Be sure to add this portable stove into the mix. There's nothing more classic than Coleman for camping gear—and for less than $50, it simply can't be beat.
The James Brand The Carter
Looking for a foolproof stocking stuffer for the rugged outdoorsman in your life? No problem—The James Brand's Carter knife is made with a stainless steel blade and features a thumb disc for easy use. Plus, it comes with a removable pocket clip in case they want easy access.
Bug Bite Thing Insect Bite Relief Tool
As much as I hate to admit it, bug bites are a part of camping—even if you have all the repellant in the world. Help keep them at bay with this handy tool, which will suck out the venom right after the inevitable happens.
Day Hike Supply Pack
Another tried-and-true camping gift? A supply pack complete with the essentials needed for a day hike. After all, safety first.
Rumpl Original Puffy Blanket – Grand Canyon
Finding the perfect blanket to take on a camping trip is easier said than done. You want something that can handle the great outdoors, but also something that'll keep you warm and toasty at night. Well, this does both and features an illustration of the Grand Canyon (and there are other parks available if your giftee has a favorite!).
Beer Sleeping Bag
Hey, we love a good novelty gift. And there's nothing quite like a sleeping bag beer cozy to help your tent-pitching friend lean into their favorite activity.
Blavor Solar Power Bank
Nobody likes losing juice while they're hiking for miles on end. Give them the gift of a full battery with this solar power bank. There's no doubt they'll be thankful to have this.
Campfire Whiskey Tumbler Set
If you're shopping for a whiskey lover who also loves to enjoy the fresh air, be sure to add this tumbler set into the stocking. It'll be one of the coolest things to throw into their duffel.
Read More: Best Whiskey Gifts
Mountain Hardwear Mineral King 2 Tent
mountainhardwear.com
$250.00
For the person on your Christmas list who's been talking about "getting into camping" but hasn't had the chance to get the gear they need, offer them a leg up with an easy-to-pitch tent that's big enough to fit them and a friend.
Chef'n S'mores Roaster
crateandbarrel.com
$49.95
From setting up the fire to getting the supplies, enjoying a good ol' more can take more work than you'd imagine. Well, make it easy for the campers in your life with this sleek roaster, which has a space to keep your graham crackers warm and your chocolate soft while you roast—or burn—those marshmallows. Plus, you can use it inside when you aren't able to get away for a weekend trip.
Dockers One Pocket Shirt
When. in doubt, you can never go wrong with the gift of clothes. Camping is all about layers, and this classic flannel is sure to be a welcome addition to anyone's outdoor wardrobe.
Larq Bottle PureVis
Give someone the gift of a more carefree excursion with this self-cleaning water bottle. it uses UV-C LED technology to purify clear water in 60 seconds, which. means they can worry less about bacteria or toxins and focus on the hike they've planned for the day. 
Birkenstock Arizona Genuine Shearling Slide Sandal
Let's be real: Could there be a better campsite shoe than the classic Birkenstock Arizona? The answer is probably not—and if someone's gearing up for some cold-weather trips, give them the brand's shearling style to keep their toes warm (with a pair of socks, of course).
Campfire Roasted Coffee
While the smell of a campfire the day after might not be as desirable as it is in the moment, I imagine that a set of coffee roasted by the smokey flames will be a warm welcome in the mornings.
Pendleton Knit Baby Blanket with Beanie
Know an outdoorsy person who just had a baby? Give them the delight of outfitting their little one with a Pendleton blanket and a matching beanie—and get ready for all those photos on the 'gram.
Smartwool Men's Hike Classic Edition Light Cushion Crew Socks
Smartwool
amazon.com
$19.00
Sometimes, a pair of socks as a holiday gift seems like. an afterthought. But for the camper on your list, there may not be something better. And let's be real: No one does camp-ready socks quite like Smartwool.
Read More: Best Socks for Men
REI Gift Card
So you've already gotten them an annual pass for the national parks—but now it's giving them the gear. And sometimes, it's best to just let them choose, which is where this foolproof gift card comes in. 
Sabre Frontiersman Bear Spray 7.9 oz – 2 Pack
Listen the last thing anyone (and I mean anyone) wants is to experience a bear attack. Help keep your loved ones safe and sound with this bear attack deterrent, which works for up to 30 feet.
Scatter Lawn Game
A great camp setup isn't complete without an easy and fun outdoor game for everyone! And the great part about this one is you can take it anywhere, from the grassy campsite to the local park when you're home. 
This content is created and maintained by a third party, and imported onto this page to help users provide their email addresses. You may be able to find more information about this and similar content at piano.io